The birth anniversary of Jesus Christ is commemorated on 25th December in all countries where Christians. This holy festival, known as Christmas, is, undoubtedly, the most significant occasion celebrated by this community. Marked with tender love, gentle care, and kind affection, this special festival brings near and dear ones together and allows them to share some fond memories. Christmas mass, beautifully embellished tree, gifts and presents laden below the tree, stockings hanging on the beds, and cooking lip-smacking traditional delicacies are some of the festivities that mark the celebration.
If you are thinking of what different to make on this Christmas to keep the kids engaged and entertained, this section is just your right stop. Candies and gifts are the most important things that attract kids the most. Given in this section are some easy and tasty recipes for making truffles, toffees, fudge, and candies. They make perfect Christmas gifts for young ones and can also be used as Christmas party snacks and favors. Use them to decorate Christmas trees and cakes for a unique touch. Steer through them and take your pick.
Here are some tastiest and easy recepies for truffles, toffees, fudge and candies of all kinds. They are the perfect Christmas gifts for kids and can also be used as Christmas party favors. These home-made candies are sure to win over everybody and can be used to decorate the cakes and Christmas trees too.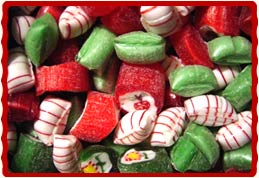 Chocolate Truffles
The most widely celebrated and observed festival across the world, Christmas marks the birth anniversary of Jesus Christ. Observed on 25th December every year, this holy occasion is commemorated with much grandiosity and opulence. Thus, all the celebrations are lavish and magnificent.
Cranberry Fudge
It's Christmas time! And it's winter time too! Relish the goodness of a luscious dessert filled with oodles of fruit! While everyone is busy preparing delicious and beautiful cakes and cookies, you can move ahead with baking lip-smacking and appetizing cranberry fudge. Further, the addition of chocolate chips makes this incredible dessert simply irresistible.
English Toffee
Give your Christmas celebrations a blend of English festivities. A gorgeous buttery toffee, this candy is covered with a perfect combo of rich dark chocolate and roasted almonds. Sure-to-water-your-mouth kinda treat! However, these almonds can be replaced with any other dry fruit of your choice.
Peppermint Fudge
Add a refreshing candy to your Christmas meal with delicious and juicy peppermint fudge! Make your Christmas holidays memorable by introducing your near and dear ones to a sweet-cum-pepping dessert. You can even serve this candy as snacks or accompaniments for kids and youngsters.
Turkish Delight
If you happen to be in the Middle East or, preferably in Turkey, do not miss to bite into the juicy, starchy, and gorgeous Turkish delight. Prepared from sugar and starch, and loaded with lots of nuts, this flavorful candy will keep you engaged for the nest few hours. For those who haven't got a chance to try this delightful candy, you can make this exotic dessert at home.