Christmas is a sacred holiday observed on December 25th by hundreds of millions of people round the globe every year. It commemorates the birthday of Jesus, the central figure of Christianity. Hence, Christmas is considered to be the most significant occasion for all Christians. Nonetheless, people of other religion take part in the celebrations to contribute to the festival and occasion. Traditional meals, Christmas tree decoration, gift giving, making native scenes, exchanging greetings and cards, and attended midnight mass form some of the prominent customs of this holy occasion.
Making delightful and grand meals is another important ritual of Christmas. Apart from the sumptuous and scrumptious turkey and pig stuffed fares, light snacks and drinks also accompany the festivities. And for kids, these options are not limited. Cookies make great treats and goodies to marvel and please kids and young ones. Even the sugar-craving adults do not stay behind in taking equal pleasure in cookies. Give your Christmas celebrations a different route by making some unique and tempting cookies. Glance through this section to learn how to make these mouth-watering and yummy cookies.
Christmas cookies are popular as Christmas treats and goodies, especially among kids and sugar-craving adults. Some people fashion them into fortune cookies by inserting a few lines of prediction in each cookie and the lines can be read out by the one eating a particular cookie.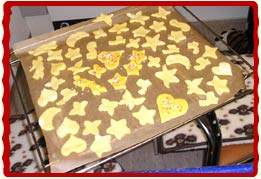 However, this method is used just for fun. You may also keep slips of funny lines written in the Christmas cookies that you can make using the recipes given here.
Cathedral Windows
If you are planning to prepare a lavish and extravagant traditional meal for this Christmas, then you have beautiful and delicious cathedral window cookies to serve as desserts. Since the desserts are served at the end, they deserve to be the best amongst the entire delicacies served right from the appetizers to drinks to the main course dishes.
Chocolate Chip Cookies
Amongst all the cookies prepared in this world, chocolate chip cookies are the most admired and loved cookies by one and all. Not only kids, they are equally enjoyed and savored by youngsters and adults as well. These delicious and scrumptious cookies do not require any reason to be prepared.
Eskimo Snowballs
With Christmas time around, people are busy with cooking and making plenty of traditional and different delicacies for the occasion. And if you are tired of entering the kitchen every time only to fulfill another demand of your family, switch to a no-cooking recipe called Eskimo snowballs.
Gingerbread Cookies
Delicious, mouth-watering, and irresistible, gingerbread cookies make a perfect dessert recipe. While you have been purchasing gingerbread cookies from high-end bakeries and stores, how about making your own cookies at home? Filled and enriched with different spices, they make an ideal winter snack to gorge on anytime you feel a craving for cookies.
Pistachio Ribbon Bars
The holy festival of Christmas is celebrated throughout the world with immense extravagance and magnificence by the entire Christian community. The festival, celebrated on 25th December, commemorates the birth anniversary of Jesus Christ, the key figure of Christianity. Hence, the occasion is marked with lavish and grand celebrations that include preparing a sumptuous and luxurious meal.
White Christmas
Gorgeous, appealing, tempting, and simply irresistible - White Christmas truly stands up to these terms. To add on, these no-bake cookies are rich in chocolate and fruit, apart from lots of coconut and rice krispies, for that perfect cookie product. And when kids are around, you have umpteen excuses to make your way to the kitchen and prepare these easy and simple snacks.