One of the most devotedly and prominently celebrated festivals, Christmas is an occasion of spreading and sharing love, affection, and togetherness. Marked by the entire Christian community across the globe, this holy festival called Christmas celebrates the birth anniversary of the son of God, Jesus Christ, on 25th December every year. As such, preparations for the same begin months in advance. People clean their homes, rehearse for Christmas mass, deck up the Christmas tree with beautiful trinkets, cook luscious traditional delicacies, and purchase new and vibrant clothes.
Considering Christmas food, the menu consists of a long list of numerous kinds of delicacies. Appetizers, snacks, drinks, liquors, cakes, desserts, and the main course! So when Christmas is around, no house would be found without these lavish and mouth-watering foods, tempting people to dig into them every now and then. With the completion of the heavy and sumptuous meal, desserts mark the perfect end. And what better than cakes can be to complete your meal on a sweet note with fulfillment! With this section, find out different cake recipes that will make you go gaga and tickle your tummy for a second, or may be third, slice. Check them out and enjoy!
Here are some of the most delicious recipes of Christmas cakes and breads.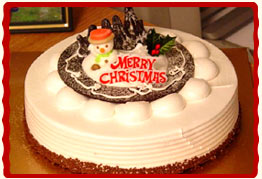 You will particularly love the Christmas Tree cake and Dark Christmas fruitcake for their flavor and appropriateness for the festive holiday season.
Almond Butter Cake
Yummy is the word that first strikes the mind when you think of almonds, butter, and cake! When it's Christmas, your mouth is bound to water yearning for finger-licking and scrumptious cakes and other desserts. A time to celebrate and remember Jesus Christ, people indulge in making the best of foods they can find in books and on the internet.
Black Walnut Cake
Christmas is on the way! Preparations are in full swing. You have decorated your home with all sorts of garlands, lights, and ornaments. Your Christmas is all decked up with assorted knickknacks and trinkets. Your clothes are done and you are now heading to the kitchen to prepare a grand and sumptuous Christmas meal.
Candy Bar Angel Cake
Lots of cream, cake, pudding, and candies - that's exactly what a candy bar angel cake is. Popular in the United States, angel food cake is a moist and sponge cake prepare in a bundt pan, leaving a hole in the center of the cake. Savor your Christmas celebrations with a beautifully decorated and tempting angel food cake.
Christmas Log Cake
Do you wish to make your Christmas celebrations all the more special and memorable for years to come? Include this Christmas log cake in your Christmas feast menu. Delicious, flavorsome, and succulent, this cake is ideal for leaving everyone wanting for a second serve, or probably a third one too.
Christmas Tree Cake
What is a Christmas without a Christmas tree? Surely bland and less enjoying! Just as a Christmas tree is essential for festive celebrations, why not add this special symbol in your Christmas meal as well? Yes, a Christmas tree cake. Confused? Don't worry. A Christmas tree cake will only add a touch of tradition and custom to your celebrations.
Dark Christmas Fruit Cake
A cake that is scrumptious, moist, and tempting yet healthy and appetizing! We are talking of the dark Christmas fruit cake. Made from a multiplicity of fruits and dry fruits, this dessert is a sure-shot addition to your Christmas meal. And since it is winter time, adding a few sprinkles of spices and liquor will bring out the flavor and aroma of the cake and keep you protected from the snowfall outdoors.
White Christmas Cake
While everyone is busy in preparing bright and attractive cakes and desserts for Christmas, you can opt for diverting your route towards a simple yet elegant white Christmas tree. Though the very thought of it may sound plain and bland, but with the right kind of decoration and garnishing, you can turn it into a lovely grand dessert only to leave the guests spellbound.